As mentioned on a couple of shows, I recently built myself an electric smoker.  I said I'd put the plans online in case anyone else wanted to give it a try, so here they are!  Below is the parts list I used with the approximate cost of the materials in my area.  Naturally, availability and pricing may be different for you.  Also, I ended up using regular BBQ grill grates from the hardware store instead of making mine out of expanded metal.  They were clearing out their summer stock and I got them pretty cheap.  They work really well, and I don't intend to change them.
Construction notes:
Spread the construction adhesive over the wood, then lay the steel on top of it, then secure it in place with the sheet-metal screws.  The metal will reflect the heat and make a more efficient smoker, as well as protect the wood and keep it from scorching.
Use the high-temp paint for all of the exposed wood inside the smoker.  This will protect it and keep the heat from breaking it down over time. (I hope) There's no need to paint the sheet-metal.
The bottom piece will need to be notched at the corners to make room for the 2x2 legs.  I did this with a simple jig saw and all-purpose blade.  Install the bottom piece before you put on the top and sides.
Space the 3 internal side rails 9 inches apart and 9 inches from the top and bottom panels.  Use 5 or 6 wood screws on each side rail as the full weight of whatever you put in the smoker will rest on these.  You don't want to find that the couple of screws you put in each end won't hold up that 25-pound brisket you just threw in there after it's too late.
Cut a hole appropriate to whatever thermometer you bought in the top of the unit, place the thermometer and then caulk around the hole to lock it in place.
Cut List:
Rip 12 inches off the 4-foot side of the plywood
Cut the remaining 3-foot x 8-foot board into 4 3-foot x 2-foot sections.  These will be the sides and door.
Cut the 1-foot x 8-foot piece you ripped off the full sheet of plywood into 4 2-foot x 1-foot pieces.  You'll use two of these side-by-side to make the top and bottom panels and seal the gap with caulk.
Cut 2 of the 8-foot 2x2 boards into 4-foot lengths.  These will be the 4 legs of the unit.
Measure your stock and cut the remaining 2x2 boards into the appropriate length so that the outside dimension of the completed assembly is 2 feet.  In my case, each cross-member was cut to 21 3/8 inches.
I used some remaining scraps of 2x2 to fashion a handle on the front of the door, but I find that I don't really use the handle at all.  So I'll leave it to you to decide if you want it.
Parts List:
Quantity
Item
Price
Total

1

4'x8'x.75" Plywood
$20.00
$20
4
24"x36" 28-gauge Sheet Metal
$20.00
$80.00
2
24"x24" 28-gauge Sheet Metal
$20.00
$40.00
1
4" hotel pan
$20.00
$20.00
4
1100 watt burner
$15.00
$60.00
3
24"x24" Expanded Metal
$10.00
$30.00
1
High-heat spray paint
$8.00
$8.00
2
Black spray paint
$5.00
$10.00
1
1.5" Wood Screws
$5.00
$5.00
1
1/2" Self-tapping Sheet-metal Screws
$5.00
$5.00
1
BBQ Thermometer
$5.00
$5.00
6
2"x2"x8' Lumber
$3.00
$18.00
2
Hinges
$3.00
$6.00
1
Tube Construction Adhesive
$2.00
$2.00
1
Tube caulk
$2.00
$2.00
2
Door latch
$2.00
$4.00
Total Cost  
$315.00
Pictures:
Here is the original design I came up with in Google Sketchup.  I built it several times on the computer until I came up with a layout I was happy with and could be made from readily-available materials. (Click for larger view)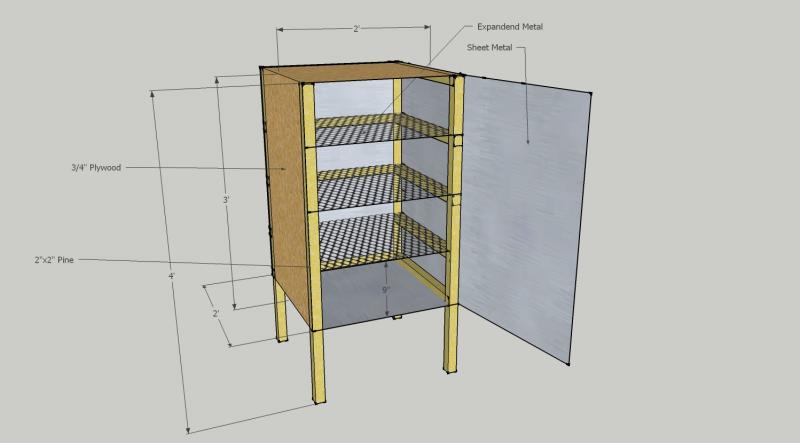 Here are a couple of pictures of the finished product.